Quarter 1 Complaints Data
15th Nov 2023
Overview
Latest data from the Telecommunications Industry Ombudsman (TIO) reveals consumers and small businesses made 12,960 complaints between July and September 2023, a decrease of 10.6 percent against the previous quarter.
Help with data navigation
To view more data in detail or to view specific data, click on the 'Select Filters' button 

on the top right corner of the dashboard. Click on the drop-down selection to select your desired data fields. Once you're done, click on the 'Clear Selected Filters' to remove all selected filters.
To open a report visual in focus mode, hover over the visual and select the Focus mode icon  
 .
Complaints decreased by 10.6 percent compared to the previous quarter, and 20.4 percent compared to the same time last year. Complaints across all service types were down compared to the previous quarter. Internet complaints did not decrease at the same rate as other service types, decreasing only by 6 percent. All issues in the top ten except inadequate fault testing decreased compared to the previous quarter. 
Telstra made up a proportion of 41.1 percent of all complaints, similar to the previous quarter. The proportion of complaints about Optus decreased from 27.3 percent to 24.9 percent compared to the previous quarter. Increases in complaints were recorded against Tangerine Telecom, Southern Phone and Uniti Retail.  
The top three phone and internet problems faced by First Nations consumers and people who speak a language other than English are reflected in the national complaints picture – problems with customer service, problems with a bill and providers not doing what they say will do.
>
Nationally, the top five LGAs with the highest complaints were Brisbane (437), Gold Coast (263), Wyndham (226), Moreton Bay (208) and Central Coast (176). 
By clicking on a specific state, you can delve deeper into the insights and gain a better understanding of the complaints originating from that area. Not sure where your LGA is? Find out here WA, SA, TAS, QLD, VIC, NT, NSW.
Unresolved complaints are complaints or enquiry-referrals that the consumer tells us were not resolved after TIO referred them to the telco. Complaints that come back to the TIO as unresolved have increased 19.3 percent compared to the previous quarter. Telstra (41.6%), Optus (24.0%), Vodafone (7.4%) and Uniti Retail (3.1%) were the providers with the most unresolved complaints. 
Escalated complaints are a subset of unresolved complaints that proceed to dispute resolution. Some unresolved complaints are not escalated since they are resolved before assigned to a case officer. Complaints that are escalated to dispute resolution have decreased 9.1 percent compared to the previous quarter, but increased by 6.2 percent compared to the same time last year. 
The total financial outcome returned to residential consumers for the period was $484,884 and $205,209 returned to small businesses. Of the complaints that proceeded to dispute resolution, 56 percent of cases were closed within 60 days. 
This section explains the finer points of our data and defines the terms we use in our reports.
Issues in complaints are recorded based on six broad categories that follow the lifecycle of a consumer's relationship with their phone or internet provider. A single complaint can have more than one issue.

Help with data navigation
 To view more data in detail or to view specific data, click on the 'Select Filters' button 

on the top right corner of the dashboard. Click on the drop-down selection to select your desired data fields. Once you're done, click on the 'Clear Selected Filters' to remove all selected filters.
To open a report visual in focus mode, hover over the visual and select the Focus mode icon  
 .
Questions? 
For more information, email mediaenquiries@tio.com.au
Support for consumers and small businesses impacted by Optus network outage
10th Nov 2023
Updated 14 Nov 2023
Contacting Optus
Latest information on the Outage here: Outage | Optus
Optus Specialist Care: Specialist Care (optus.com.au)
Contacting Optus: Message Optus anytime (24/7) via My Optus app remains the easiest way to contact Optus, or call on 133 937.
Who we can help
Individual consumers
An individual consumer is a person who uses a telecommunications provider's services for personal purposes. Most providers only allow one person to be listed as the account holder of a residential account.
Small businesses and not-for-profits 
Generally, a small business or not-for-profit consumer has up to $3,000,000 annual turnover and no more than 20 full-time employees. We take into account if employees are permanent, casual, and if employment is seasonal or voluntary. 
How we can help
Whilst service providers do not offer a fault-free service, there may be remedies available to you when a product does not perform as expected.
These remedies will vary based on individual circumstances but may include refunds for the time you were unable to use the service, compensation, or in some circumstances a release from contract.
We will take a careful approach to considering whether compensation is appropriate. The amount of compensation awarded will be proportionate to the extent of the harm suffered. It is likely most awards of compensation for non-financial loss will be modest.
If you have contacted Optus and are unhappy with its response to your complaint, we may be able to help.
We deal with compensation claims for:
financial loss caused by a breach of an obligation a telco owes a consumer
non-financial loss where an individual has suffered:

embarrassment or humiliation caused by a privacy breach
unusual amounts of stress or inconvenience.
Types of claims for losses
We deal with claims for compensation such as:
lost business profit due to connection delays or network faults
costs of having to pay for alternative services when a telco does not supply agreed services
the costs of repairing a telco's damage to property
the costs of protecting someone's safety after a telco discloses a consumer's personal information, for example an unlisted number or address.
breach of privacy rights resulting in injury to your feelings or humiliation
where an unusual amount of physical inconvenience, time taken to resolve a situation, or interference with an individual's peace of mind has occurred because of a telco's action or inaction.
We do not deal with claims for compensation:
for the costs of making a complaint to the Telecommunications Industry Ombudsman
for loss of business reputation
made to penalise a telco.
When assessing your compensation claim, we will consider what steps you took to protect your interests and minimise any losses. 
You can only get compensation for losses directly caused by the telco
We assess claims by first determining if there was a breach by the telco. Then we consider the impact of the breach on you.
For financial loss, you will need to give us evidence to show the loss. This will vary depending on the loss you are claiming for.
Faulty services
The Australian Consumer Law sets out consumer guarantees for goods and services and the rights you have when something fails to perform as expected.
When assessing complaints, the TIO assesses whether these guarantees have been met, the extent of the failure and what remedies may be fair and reasonable in the circumstances.
Remedies
The remedy you are entitled to will depend on whether the failure to comply with the guarantee is a major or minor failure.
If your product or service fails to meet a consumer guarantee, your right to a remedy may depend on the type of failure. Some possible remedies that may apply are:
refund
repair
replacement or exchange
compensation
cancellation of contract.
Minor failures can usually be remedied within a reasonable amount of time.
Major failures apply when there is a clear breach, and a product or service cannot be fixed or remedied within a reasonable time.
As telco's do not offer a fault free service, a one-off outage is unlikely to be considered a major failure which would constitute a cancellation of contract under the ACL.
When we handle complaints about faulty services, we consider what is fair and reasonable in the circumstances having regard to the law, relevant industry codes, guidelines, and good practice.
Compensation amounts
The amount of compensation for financial loss we can award
We can direct a telco to pay you up to $100,000 in compensation. If we estimate the value of the claim is likely to exceed $100,000, we may decide not to handle a complaint because a court or tribunal is more appropriate for your claim.
If you want to make a claim for financial loss, you should be able to show us the loss with supporting information.
The amount of compensation for non-financial loss we can award
The limits on the amount of compensation we can award are:
A maximum of $100,000 for complaints about privacy rights
A maximum of $1,500 for all other complaints.
You can find more information about how we handle complaints about faulty services and compensation in the links below.
Further information
Optus phone and internet network outage
08th Nov 2023
Posted 1.10pm
Update from Optus: 
"Some services across fixed and mobile are now gradually being restored. This may take a few hours for all services to recover, and different services may restore at different sites over that time."
---
Posted 11.47am
Optus has advised triple zero ("000") calls will not work from an Optus landline (fixed line telephone). Mobile calls to 000 will work if another carrier is available. Optus customers who need to contact emergency services are encouraged to use a mobile line to call 000.
---
Posted 10.40am
In the early hours of 8 November 2023 Optus customers started reporting that they were unable to connect to the Optus network. This includes both the mobile network, fixed line network, and customers roaming overseas.
There are reports of providers that use the Optus wholesale network also being impacted. We will publish this information as it becomes available.
How we can help
If you have contacted Optus and you are unhappy with the response, you can make a complaint with the Telecommunications Industry Ombudsman.
If you have not contacted Optus, or you have been unable to contact them, we can forward your complaint to Optus on your behalf.
We can help you with refunds for the time you have been unable to use your service, compensation claims and disputes about your contract.
Please note
The role of the Telecommunications Industry Ombudsman is to handle disputes. If you are in an emergency situation or require medical assistance please call 000.
We will keep updating this page as soon as we have further information.
Ends
Notes to Editors
For all media enquiries please contact the Media Team on 0437 548 540 or mediaenquiries@tio.com.au
About the Telecommunications Industry Ombudsman
The Telecommunications Industry Ombudsman provides a free and independent dispute resolution service for residential consumers and small businesses who have an unresolved complaint about their phone or internet service.
Consumers and small businesses should contact tio.com.au or 1800 062 058.
Annual Report 2023
11th Oct 2023
Overview
Complaints from phone and internet consumers decreased 16.5 per cent in the last financial year ending 30 June 2023. In this period, consumers and small business made 66,388 complaints to the Telecommunications Industry Ombudsman, highlighted in the Annual Report 2022—23.
Help with data navigation
To view more data in detail or to view specific data, click on the 'Select Filters' button 

on the top right corner of the dashboard. Click on the drop-down selection to select your desired data fields. Once you're done, click on the 'Clear Selected Filters' to remove all selected filters.
To open a report visual in focus mode, hover over the visual and select the Focus mode icon  
 .

"With the new financial year, the TIO will be focussed on ensuring a fit-for-purpose regulatory regime that reflects consumer expectations of the telco market. We will be bringing in a refreshed TIO Strategy 2024-26, that pursues a fair and accessible communications market for Australia. 
And we will focus on being attuned to changes in the communications market, how people are using different ways to communicate, and ensuring there are adequate consumer protections in the digital platforms space."
×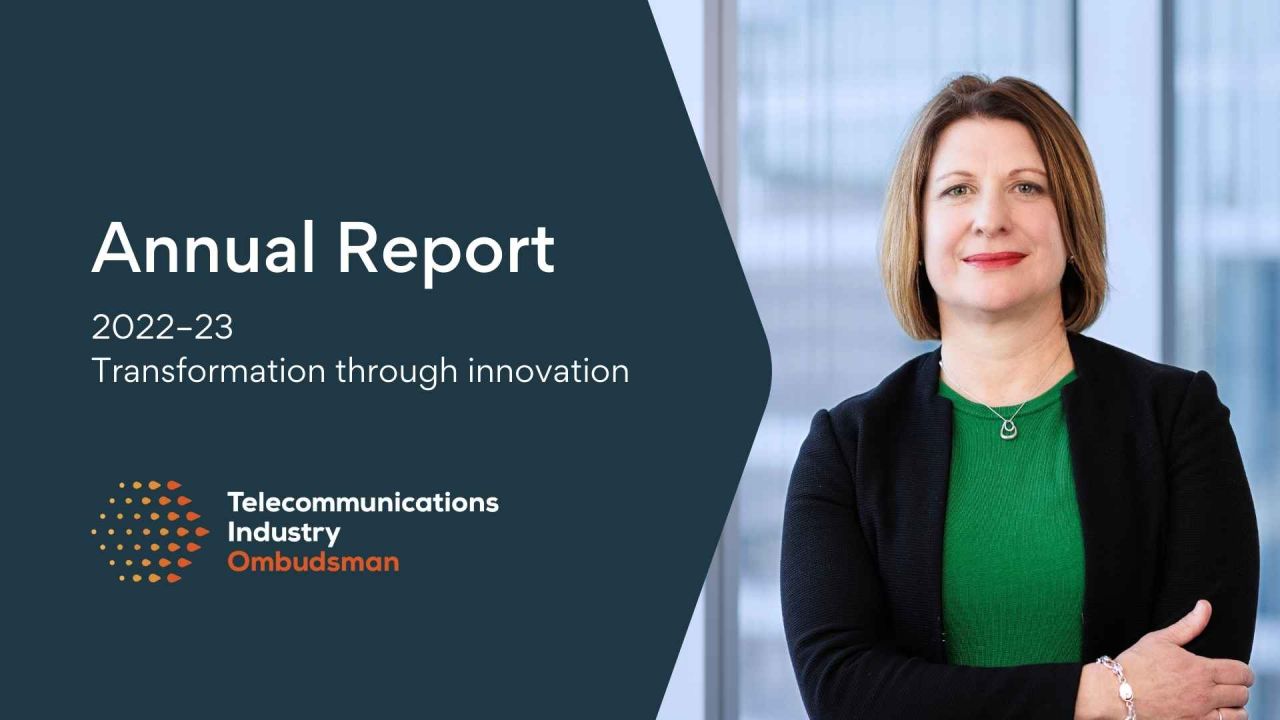 By clicking on a specific state, you can delve deeper into the insights and gain a better understanding of the complaints originating from that area. Not sure where your LGA is? Find out here WA, SA, TAS, QLD, VIC, NT, NSW.
This report contains a series of case studies from the past year. You can find more information about each case study on the pages listed below.
This section explains the finer points of our data and defines the terms we use in our reports.
Issues in complaints are recorded based on six broad categories that follow the lifecycle of a consumer's relationship with their phone or internet provider. A single complaint can have more than one issue.

Help with data navigation
 To view more data in detail or to view specific data, click on the 'Select Filters' button 

on the top right corner of the dashboard. Click on the drop-down selection to select your desired data fields. Once you're done, click on the 'Clear Selected Filters' to remove all selected filters.
To open a report visual in focus mode, hover over the visual and select the Focus mode icon  
 .
Questions? 
For more information, email mediaenquiries@tio.com.au
Rebalancing regulation in an era of distrust
21st Sep 2023
Presenter: Cynthia Gebert, Ombudsman
Event: Telecommunications Society (TelSoc) lunchtime webinar series
Date and time: Thursday 21 September 2023
Duration: 30 mins
Media enquiries: TIO Media Team on 0437 548 540 or email.
Acknowledgement of Country
I acknowledge the Traditional Owners of Country throughout Australia, and recognise their enduring connection to land, water, culture and community.
I pay my respects to Elders past and present for they hold the memories, the traditions, the culture, and the hopes of First Nations People.
Sovereignty has never been ceded, this always was and always will be, Aboriginal land.
Intro
Good morning everybody.
I'd like to thank TelSoc President Jim Holmes for inviting me to speak today. I hope I can do this subject matter justice. 
I'd also like to welcome my co-presenter, Dr Karen Lee from UTS. 
I had the pleasure of meeting Karen in November last year at a digital platforms roundtable and the first thing that struck me was how important it is to have people like Karen and other academics who aren't in the trenches of the day-to-day industry, policy and regulatory environment.
They stand back, looking at the bigger picture and can talk about what the facts look like from that view.  We can gain genuine insight from these facts because they are impartial and therefore can be trusted. 
Our industry is changing.  
Our open and honest dialogue has never been more critical, because in the face of change we will work better together if we are open and honest with one another.
Today I'll discuss with you the current complaints decline, 
the TIO's call for direct regulation for consumer protections, and 
the need for a telco registration scheme with minimum entry requirements.  
I'll also touch on what tips the TIO can share for the development of a new digital platforms consumer protection framework, and I look forward to answering your questions at the end. 
But first, we need to understand why it is important for me to talk about these topics today. 
This means we need to talk about consumer trust, and do a quick delve into telco history. 
Trust
In April of this year, 
for the first time since Roy Morgan began measuring trust and distrust in 2018, 
the telco industry replaced the social media industry as the most distrusted industry in the Australian economy. 
And in the 12 months to June 2023, Roy Morgan reported two of Australia's largest telcos appeared in the top five most distrusted brands in Australia. 
When commenting on why a majority of Australians have little to no trust in telcos, Roy Morgan CEO Michele Levine said, 
"While trust builds human connections with businesses, distrust is a more powerful driver in the decisions people make".
Ms Levine also said
"The underlying message to consider is that increasing distrust can heavily impact commercial and economic outcomes for businesses and brands. Although trust is important for building human connections, distrust is the bellwether for an unsustainable future. Risk assessments and procedures by telco executives and company directors need to formally factor-in distrust – indeed distrust should be on the risk register of every board in Australia."
According to the 2023 Edelman's Trust Barometer, the good news is businesses as a whole are seen as the institutions that are most competent and ethical,
a powerful statement at a time when our social fabric is weakened by deepening divisions.   
Edelman defines the way forward for business, and I'll take the three points I believe are the most relevant for us today: 
As the most trusted institution, business should leverage its comparative advantage to inform debate and deliver solutions.
Business and government can build consensus and collaborate to deliver results that push us towards a more just, secure, and thriving society.
Be a source of reliable information, promote civil discourse, and hold false information sources accountable.
If we view these three ideas as pillars, they can give our sector the aspiration and insight we so desperately need to repair the distrust of telco consumers. 
But first, let's go back to the past.  
The TIO opens its doors in December 1993 with three members – Telecom, Optus and Vodafone – under the watchful eye of Ombudsman Warwick Smith. 
In our first year of operation those three members generated 8,500 complaints, 90 per cent of which were received by phone. 
New Ombudsman John Pinnock joined in early 1995 at a time of significant change. 
Telstra was created on 1 July 1995 through the amalgamation of Telecom, the Overseas Telecommunications Commission and Aussat. 
In March 1996 the Federal Government announced the partial privatisation of Telstra through the sale of one third of its equity. 
The Australian telecommunications industry was opened to full competition on 1 July 1997, 
with the passing of the Telecommunications Act 1997 and associated instruments. 
The package also saw the establishment of the Australian Communications Authority (ACA) 
and emphasised self-regulation through industry Codes developed by the new Australian Communications Industry Forum.
The period following 1 July 1997 was one of activity and rapid growth for the TIO as it responded to the newly-deregulated telecommunications market. 
Most new entrants were start-up internet service providers (ISPs), unused to telecommunications regulation, and even opposed to the concept of alternative dispute resolution. 
During this time, the TIO sought to educate its new members, and was heavily involved in consultations about the new industry-developed consumer codes of practice. 
As complaint numbers and membership increased, so too did the number of TIO staff, which grew to 30 people in 1999. 
And on 1 July 1999, the implementation of the Telecommunications (Consumer Protection and Service Standards) Act 1999 finally made it a legal requirement for all eligible service providers, 
including ISPs, 
to comply with the requirements of the TIO scheme. 
Today the TIO has nearly 200 employees and almost 1700 members delivering over 45 million services in operation. 
Telco regulation hasn't experienced wholesale change since 1997, yet the world has changed exponentially, and so have consumer expectations.
It should be an easy flow chart. 
Telcos rightly care about business sustainability. 
Consumers care about their products and services being reliable and accessible.  
And Government cares about keeping constituents happy because this keeps them in power. 
Yet despite this, the consumer protection framework hasn't changed which is incongruent with telecommunications being an essential service for people and businesses. 
External dispute resolution schemes are key parts of the consumer protection ecosystem.
Without the TIO, what would regulation look like? 
What would complaint volumes look like? 
What would relationships between the community and telcos look like?
We have clever people at the TIO, passionate about fair and reasonable outcomes, but we need to keep working together with stakeholders to make sure understanding and value of the TIO's role continues to mature. 
Maturity looks like a collaborative working relationship with an understanding that our role is to independently resolve complaints and share our insights based on what we see.
But it's also to help improve the way industry operates, so we as a sector can restore broken community trust.  
Maturity in action looks like a deeper understanding of fair and reasonable outcomes for complaints to reduce the sometimes-combative nature of the relationship of the TIO with industry.
Maturity is understanding the telco industry and the TIO will have different perspectives on things, as we perform fundamentally different roles, but we share a genuine desire and curiosity to understand each other's perspectives.
A healthy and productive relationship between the TIO and industry is one where we don't fight one another, and we work collaboratively. We work together to improve consumer outcomes, consumers who are your customers. 
We need the industry to be open to sharing when things aren't working so we can help stop problems escalating,
and resolve systemic issues before customers are impacted. 
In many cases it's possible to do this before any regulator sees a need to get involved.
For telco providers, the TIO is an opportunity to improve your service delivery. 
I've been in the role of Ombudsman for a year and a half now and I want to take this opportunity to acknowledge the great work being done to drive down complaints.
The investment in your people, processes, and technology improvements that sit behind the drop in complaints has been welcomed.  
We know work done by industry has helped to drop complaints, and we also know regulation has helped to drop complaints. 
There is more to the story. It is important we understand the broader context because despite the decline, there is more work to be done.
Complaints decline and complaints landscape
The collective voices of customers who turn to Ombudsman services for dispute resolution provide a wealth of data – 
what they're frustrated about, what problems they're facing, and where patterns may be emerging that show a need for change.
Ombudsman data can inform the way industries and government agencies improve their products and services and move to a more customer-centric approach – 
to the benefit of customers, but ultimately also of benefit to the industries and agencies themselves.
So where are we today?
Over the past five years, complaints to the TIO have steadily declined.
I would also like to note that the figure for FY23 only shows three quarters of data. 
We can attribute some of this decline to the positive efforts by the telcos and the ACMA to drive down complaints. 
In 2018 the ACMA introduced the Complaint Handling Standard, then two years later in 2020, the Mobile Number Pre-Porting Identity Verification Standard.
4G backup became more widely available, and more telcos began offering unlimited data plans, and these changes improved reliability for consumers. 
In 2022 the ACMA published its Statement of Expectations, and the Customer Identity Authentication Determination came into force.
Telstra brought call centres onshore, and the Reducing Scam Calls Code expanded to include Scam SMS.
And more recently, we've seen investments by some telcos to improve the customer experience.
Outside of the telco sector, the lasting social effects of the COVID-19 pandemic and current cost-of-living crisis are being felt nationwide.  
In addition, a recent report by the Consumer Policy Research Centre, the CPRC, revealed consumers don't always make complaints or raise issues when something goes wrong.
28 per cent of people who were surveyed that didn't take action said it was because they thought it wasn't worth the effort. 
The CPRC sees a link between this finding and the frustrations with customer service. 
14 per cent of Victorians had difficulty contacting a company when something went wrong and the comments from the survey clearly show how many people are losing time when they have to chase businesses who haven't done what they promised.
Closer to home for the TIO, the news is just as grim. 
The CPRC report showed that just 3 per cent of surveyed Victorian consumers took action to resolve their problem via the relevant Ombudsman such as AFCA, EWOV, or the TIO. 
When asked by the CPRC about their reasons for not taking action, the report said,
"A lot of people said they felt that raising a problem wasn't worth the effort… Others indicated they weren't confident action would solve the problem or the process was too complicated." 
The CPRC are absolutely correct in their assertion that 
"this points to a need to look at dispute resolution options for consumer issues and to address both the perception that complaints processes will be difficult and to improve the processes overall."
The TIO is not immune to the wave of consumer distrust, and we do have work to do to fix our part.
But declining complaints is one part of the picture. 
In July we commenced a pilot process that saw us following up on complaint referrals, a recommendation from the recent Independent Review of our scheme.   
The process involved an automated message being sent to consumers via text or email at the end of the referral period, once our members had an opportunity to address the consumer's issue.
During this process we saw an increase in consumers advising us their complaint remained unresolved, and they returned to the TIO for conciliation and investigation. 
We paused the referral follow up process mid-August so we could review the data and the insights gathered over those six weeks.
This result poses the question – why are complaints requiring two or more pass backs before a resolution can be found? 
This result also presents further challenges for telcos and the TIO to resource the additional work if a consumer's complaint remains unresolved after initial direct contact. The results we saw in the first month of this trial suggest that there is a significant unmet complaint demand which needs to be addressed by our members.
The time, resourcing, and associated costs to resolve a complaint at first referral are beneficial for our members and their customers. 
It's a signpost that further work is needed to ensure the consumer experience remains front and centre of the complaint handling process. 
We don't always know the drivers of complaints to our office but what I can say with confidence is that no matter how complex the answer, we can deal with what we know to be true.
We all need to clean up our trust problem. 
And as Edelman has pointed to, we need to think bigger, and we need to see the customer experience through the eyes of those who use our services. 
A refreshed regulatory framework
I've talked about the state of play for complaints and consumer issues, and now I'd like to talk about the status quo for regulation in the telco sector, and what needs to change.
Put simply, we need consumer protections to be set in direct regulation and we need a registration scheme with minimum entry requirements. 
Since the deregulation of telco in 1997, not much has changed. 
Today the telco sector operates under a co-regulatory framework and there are no barriers to entering the market.
The bulk of telco-specific consumer protections are contained in the industry-made Telecommunications Consumer Protections Code, or TCP Code, which is approved by the regulator, the ACMA. 
The uncomfortable truth is that there is an inherent tension here. 
Community expectations of essential service providers have changed, but the responsibility for setting key consumer protections in telco has not. 
People and small businesses who complain to us tell us they view telecommunications in much the same way as they see other utilities. They make comparisons between the essential nature of utilities and the need for reliability.
Accountability and responsibility for the regulation of phone and internet services should sit with the government and the regulator. 
Why do we still have key consumer protections drafted by industry? 
Why is the balance of industry-made and government-made regulation in such stark contrast with the rules for energy, water, and key elements of banking services?
There are two threads I'd like to pull on to help us consider these questions.
First, as I flagged earlier, there are some rules that benefit from the knowledge of industry experts. 
Consumers benefit from industry-made rules on technical specifications and collaborative supply chain efforts time and time again.
Second, history matters.
I talked earlier about the TIO's journey, and it is worth noting again that the telco industry and framework have not had a large shakeup since 1997, yet so much has changed since then.
For contrast, let's look at the banking sector. 
After the Hayne Royal Commission findings came out in 2017, everything changed. The banking industry had lost the trust of the public and the framework had to be changed to get that trust back. 
Broadly speaking, I think it is fair to say that the banking industry has responded well to the increase of direct regulation, and consumer trust has continued to improve. As always, there is more work to be done, but generally the shakeup led to better outcomes for consumers and industry alike.
While there has been no comparable Royal Commission in the telco sector – 
and to be clear there I am not suggesting there should be one – 
the telco sector has been touched by a Royal Commission. 
The telco industry was one of the many groups tasked with responding to recommendations from the Victorian Royal Commission into Family Violence in 2016. 
The industry undertook a number of joint activities to support consumers who had experienced family violence:
In 2017, Comms Alliance, the peak telco industry body, worked with the TIO and Financial Counselling Australia to create a financial hardship guideline for telcos to better assist consumers
The TCP Code was amended in 2018 to explicitly capture family violence as a financial hardship indicator, and
Comms Alliance also published a non-mandatory guideline in 2018 for telcos to assist consumers experiencing family violence, which it updated this year.
I may not have been the Ombudsman in the telco sector then but I know that this work was challenging, it was demanding, and it was valuable. 
This work led to real tangible benefits for consumers struggling with family violence, and I thank every member of industry and Comms Alliance for their push to make those changes happen.
That being said - what we know now is those changes did not go far enough. 
It was clear when my office released a systemic report in 2020 highlighting that the telco industry still needed to improve the way it helps consumers who experience family violence, two years after industry changed the TCP Code and released its guideline.
And although we applaud the work and outcomes in the updated guideline published in April this year by Comms Alliance, it remains clear key consumer protections like this should be set by government. 
Earlier this month the Government directed the regulator to intervene before the completion of the TCP Code review to create an enforceable standard with minimum requirements for financial hardship assistance.
This larger-scale change to be led by government aligns with community expectations that key consumer protections cannot be optional – they must be mandatory and they must be enforced.
This is not a conversation about misconduct, it is a conversation about complaints, and trust, and the right framework for a changed and evolving telco sector.
We know that consumer trust in the telco industry is low. The time is right for the balance in the co-regulatory framework to be reconsidered to help rebuild that trust – 
government should regulate the minimum standards consumers can expect.
I've come from the energy and water sector, a sector that is much more directly regulated, and I can tell you first-hand that direct regulation has benefits for consumers and industry.
Introducing direct regulation for key consumer protections would promote consistent outcomes for consumers and guarantee a basic quality standard for all players in the market. 
And it would bring the telco sector in line with the policy approach in other essential areas, such as energy and water.
The second piece of the puzzle is addressing the long unmet need for parameters around who can participate in the telco market. 
Unlike other essential service sectors, the telecommunications sector does not have a registration, authorisation, or licensing scheme for service providers that sell directly to consumers. 
Why should just anybody be allowed to sell telco? Where's the barrier to entry? Where's the protection for consumers? 
Telco providers should be required to demonstrate they can satisfy the minimum capabilities required to deliver such an essential service. 
Today the TIO has the most accurate list of participants in the telco sector but it seems to me it should be the regulator who has this information. 
The telecommunications market has outgrown the policy settings that prioritised competition. 
The original policy intent of having no barriers to market entry and no registration requirement for providers was designed to open up competition after Telstra's privatisation in 1997. 
Given the broad changes to product and service delivery, 
and very healthy competition in a marketplace of nearly 1700 telco providers, 
now is the time to renew the policy settings to ensure there is proper regulation of the telecommunications market. 
Under the current framework, there is no requirement for providers to demonstrate key telecommunications regulatory knowledge, or ability to follow the rules in the sector beyond an attestation process, which isn't always complied with.
There is no requirement to demonstrate suitable leadership, or to demonstrate organisational, technical, or financial capacity to operate in the telco market.
I think we can all agree telco consumers should not be used as test subjects for the viability or profitability of a business.
While we do encounter unprepared providers that strive to do better, consumers should not be subject to providers who lack the knowledge and ability to deliver an essential service.
Introducing a registration scheme with minimum entry requirements would go some of the way to rebuilding trust with consumers, knowing their telco has had rigor applied to their right to trade in the Australian communications market.  
I've covered a lot of ground about the telco sector – where we have been, where we are, and what needs to change. 
So if we could start again, what would we do? 
The lessons telco can offer to Digital Platforms
As the government and the ACCC look to the future of digital platforms regulation, there is a lot that can be learned from the telco sector. 
Dr Karen Lee and the team at UTS are in the enviable position of exploring a new regulatory framework in an area of our lives that touches so many people. 
Much like we are with phone and internet, the vast majority of Australians are intrinsically locked into a relationship with digital platforms. 
What can telecommunications offer to digital platforms by way of lessons learned? 
Both are sectors that have transformed the way we live at a greater pace than could have been imagined by policy makers.
The Digital Platforms Inquiry that's happening right now will precede a new framework, much like what happened in the banking sector. 
We have a unique opportunity as the thought leaders and experienced captains of industry to set the right course. 
Whether or not you respect the role of the TIO in helping your business resolve complaints with your customers, 
the first lesson we can share is that we know the industry-based Ombudsman model works. This is comprised of effective internal dispute resolution as a first step, 
followed by external dispute resolution, 
when the telco and the consumer can't solve the problem. 
This is a well-established and time-tested complaint handling framework, further strengthened in 2018 with the addition of the Complaints Handling Standard. 
This direct regulation provides clear minimum standards for complaint processes, timeframes, and accessibility for consumers.
It creates positive outcomes for telcos. 
Government and independent reviews have consistently endorsed the model as being in the best interest of consumers. 
It has also been proven that the Ombudsman model is most effective when internal dispute resolution processes are mandatory and regulated.
The internal dispute resolution framework is a precursor to external dispute resolution. 
A real pathway for consumers to make complaints can be prioritised today. 
The government does not have to wait for the ACCC to finish its Digital Platforms Inquiry in 2025, and neither do digital platforms. 
I'm on the record as saying I recommend that digital platforms get started today on improving their internal dispute resolution processes. 
This is a first step towards consumers having access to the dispute resolution processes that are missing and sorely needed. 
The second lesson we can share is we need to ensure adequate consumer protections are in place as part of a regulatory framework with clear roles and responsibilities.
Through complaints to my office, we see that it is vulnerable consumers who are impacted the most by inadequate consumer protections.
We see complaints about poor selling practices, 
we see a lack of proactive and early support for consumers experiencing payment difficulties, and a lack of choice around payment methods. 
And we see telco consumers impacted by inaccessible communication channels and complaint pathways.
In her presentation to the United Nations Conference on Trade and Development, Dr Christine Riefa spoke about the protection of vulnerable consumers in the digital age. 
She pointed out that targeted vulnerable consumer protections are needed because disengaged consumers in digital markets can become even more vulnerable after being subject to unfair treatment. 
In the digital platform space, the ACCC has reported several times  that unfair treatment includes pressuring consumers to agree to confusing privacy policies, 
and designing user experiences that push consumers to make decisions they do not fully understand.
In this type of unbalanced market, it is critical that we get the balance of regulation right. 
Consumer protections should be decided and made by government and regulators rather than by industry representatives through industry codes, because direct regulation:
Can be drafted and finalised by the regulator relatively quickly
It can come from an independent perspective that is more appropriate for key consumer protections
And it is more easily, directly, and quickly enforced by the regulator.
The digital platform space has the opportunity to get the balance of co-regulation right from the outset. 
And the third lesson we can share is there must be clarity and simplicity in jurisdiction.
It is vital that all parties with a role in the digital platforms consumer protection framework come together and establish who does what, and appropriate escalation pathways.
It needs to be clear which external dispute resolution bodies each platform must engage with and for which complaints. 
Consumer protection rules should be in place, so it is clear to complaint handlers what rules to factor into deciding what is fair and reasonable. 
Having ready and willing players in the dispute resolution landscape is great – but it means little without clear legislative backing. 
Without clear legislative backing, the cracks consumers are falling through cannot be properly sealed – and new cracks could even be created.
Conclusion
In conclusion, today's market is complex, and its consumers even more so. 
The demand for change is getting louder and more pressing as telco and digital platforms irrevocably converge.   
But this year's Edelman's survey results provide some guidance for us as a sector to start rebuilding trust:
Let's leverage our comparative advantage to inform debate and deliver solutions, 
let's build consensus where we can and collaborate to deliver results that push us towards a more just, secure, and thriving society, and
I cannot encourage the telco sector enough to keep its door open to the TIO. Together we can rebuild consumer trust and drive complaints down even further than today's levels. 
We won't always agree, and we may just agree to disagree, but we all have a role to play and we can play that role best if we work together.
ENDS