We look for ways to reach people, small businesses, and communities who need our help by finding and connecting with community organisations. We build relationships with organisations who have built trust with the communities they support.  
You can find our upcoming events below: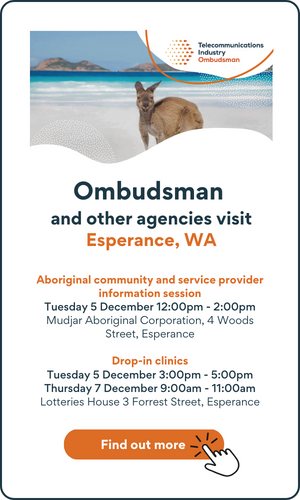 *For closed events, please reach out to the host for an invitation.
Reaching disadvantaged and vulnerable communities is important to us. It is important because staying connected by phone or internet can be the help someone needs to move forward.
Working directly with community organisations helps remove barriers. It means we can connect through trusted community service providers. A familiar face, place or event can make all the difference in introducing our service so we can help. And so that the person we are helping feels safe.
Disadvantaged and vulnerable communities we work with include:
First Nations people
People at risk from domestic and financial abuse or hardship
Culturally and linguistically diverse people
People with disabilities and additional needs
Young and older people
Our outreach activities include:
Attending in-person events such as Yabun festival, Sisters Day Out and Bring Your Bills days
Sponsoring conferences and providing keynote speakers for events such as Financial Counselling conferences at both a state and national level
Hosting in-person and online education and information sessions through community webinars
Participating in interviews with specialist media outlets.
You can order a range of informative materials from us such as posters, brochures, and flyers. View TIO's complete suite of materials available to order.
Learn more about arranging a community webinar for your organisation.
Contact our Outreach Team to discuss how we can work together to support your clients and service.