International mobile roaming
The complaint
Bill for $7,133.74 after using phone while travelling.
The outcome
Offer to reduce the bill to $5,000 was made.
The issue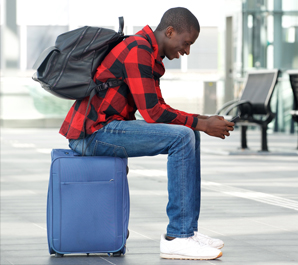 Alex Baxter* received a bill for $7,133.74 from his provider, Gold Phones*, after using his phone while travelling in Argentina. 
Alex complained to the Telecommunications Industry Ombudsman that this was not fair, especially since he was travelling with friends who also used their phone, but were only charged $100 by their provider. Alex wanted to pay only his normal charges of $150 per month 
The investigation
The Telecommunications Industry Ombudsman Enquiry Officer assigned to Alex's case emailed the details of the complaint to Gold Phones and asked them to work with Alex to come up with a solution to his complaint. Gold Phones told Alex the roaming charges were valid but offered to reduce them to  $5,000. Alex did not accept the offer and returned to the Telecommunications Industry Ombudsman. Alex's case was assigned to a Dispute Resolution Officer. 
Under the Telecommunications Consumer Protections Code, providers must warn their customers about roaming charges when the customer arrives in a different country and turns on their mobile phone. Warnings are sent by text message and must include the rates for making calls, sending texts, and using  the internet in that country. 
Gold Phones provided the Dispute Resolution Officer information to show it had sent Alex the warnings required under the Code. Gold Phones' warnings also advised Alex that roaming inclusions in his plan did not include Argentina, and gave him a free phone number and a web link in case he wanted  to deactivate roaming. 
The outcome
The Dispute Resolution Officer decided that as Gold Phones had complied with the Code, Alex should accept Gold Phones' offer of $5,000. The Dispute Resolution Officer suggested Alex and Gold Phones work out a suitable payment arrangement.
Alex disagreed with the Dispute Resolution Officer's decision and asked for a review. Our Review Officer upheld the Dispute Resolution Officer's decision and the case was closed.
*Names have been changed to protect privacy.
How we've helped other customers