The complaint
Faulty phone can't be fixed straight away and mobile coverage not available for elderly customer.
The outcome
Customer is sent a satellite phone until landline is fixed.
The issue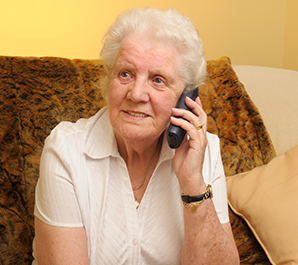 Lowanna* is in her 90s and lives alone. She has a home phone service with Yellow Telco*.
One day, Lowanna's phone stopped working. Her son Spencer* helped Lowanna to report the fault to Yellow Telco. Yellow Telco sent a technician to Lowanna's home the next day.
Yellow Telco called Spencer and said they did not know when they could fix his mother's home phone. They offered Lowanna a mobile phone. Spencer explained that this would not work because Lowanna lives in an area with no mobile coverage. Yellow Telco said they would send a different interim phone within 24 hours, but 24 hours passed and the phone was not delivered.
Spencer was concerned about his mother's safety, and for four days Lowanna had been unable to use her home phone.
The investigation
Spencer called the Telecommunications Industry Ombudsman and spoke to Jordan. Jordan assessed Lowanna's complaint as urgent. Jordan also explained to Spencer that the delay in fixing the service could mean that Lowanna was eligible for Customer Service Guarantee compensation.
Jordan sent the complaint to Yellow Telco's resolution team asking that they address Lowanna's need for an appropriate interim phone within two days.
The outcome
The Telecommunications Industry Ombudsman's Triage Officer Jenny* called Spencer two days later to ensure that Lowanna was no longer at risk. Spencer said the day after he contacted the Telecommunications Industry Ombudsman, Yellow Telco called and said they would send Lowanna a satellite phone, which Lowanna received 24 hours later.
*Names have been changed to protect privacy
How we've helped other customers